*Important Note: If you are having difficulty submitting this form or do not receive an email confirming your submission, please call us at
1.844.397.0777
or email us at
info@easternacademy.ca
Welcome to Eastern Academy!
Welcome to Eastern Academy and congratulations on taking your first step towards studying in Canada in an amazing career!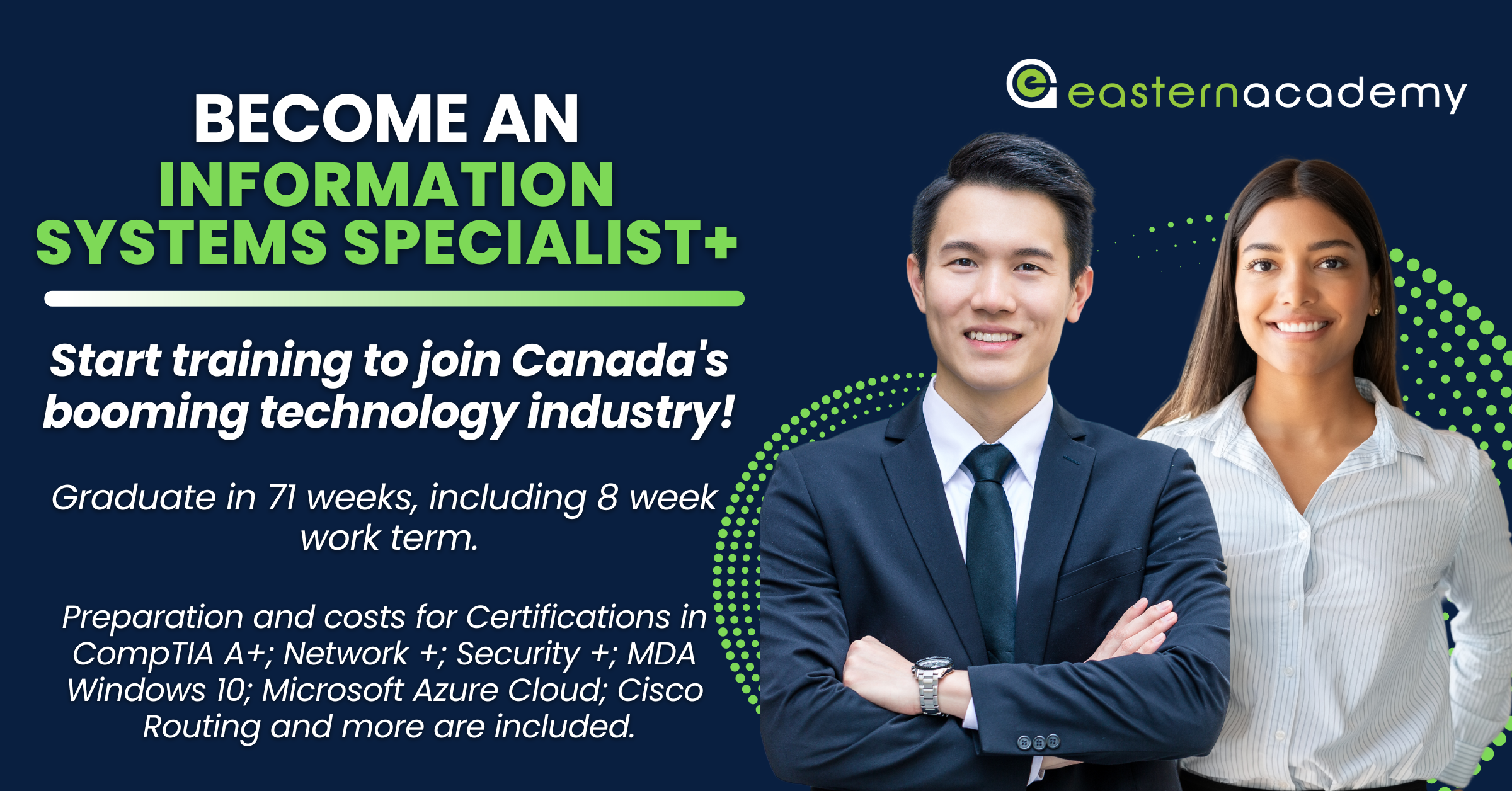 Getting Started
Language Requirements
All international students must meet Eastern Academy's English proficiency requirements for acceptance into programs. The college will accept most internationally recognized tests of English proficiency:
CAEL 60
TOEFL paper based 550
TOEFL internet based 79
TOEFL computer based 213 or equivalent
IELTS Academic Test overall band score of 6.0
MELAB minimum 78
PELMO English Assessment minimum score of 58 (Eastern Academy's preferred English Assessment provider – https://pelmo-intl.com/assessment/)
If a language proficiency test other than those reference above was used, applicants can forward the results for assessment.
If an international applicant has attended an educational institution (high school or post-secondary) for a period of three years or more where the official language of instruction was English, the English proficiency test will not be required.
Some programs may require specific English language requirements and proficiency scores that differ from those stated above, therefore international applicants are advised to please refer to the specific program admission requirements as identified on the college website.
Academic Requirements
Different programs have different entrance requirements. Please view each program page for more details. Required documents must be submitted before a full acceptance letter can be issued.
How to Apply
You can apply for Eastern Academy online.
You can also reach us on Facebook @Eastern Academy.
Application documents can be sent to us by email, fax or via mail:
Eastern Academy International Department
25 Park Drive
Corner Brook, NL
A2H 4T5
Fax: 709-637-2139
Email: internationalstudent@easternacademy.ca
Receiving a Letter of Acceptance
Once we have reviewed your completed application and have determined that you meet admission requirements, we will issue you an official Letter of Acceptance.
The Letter of Acceptance will include a breakdown of semester dates and fees and other information you will need.
Obtaining a Study Permit
If you are travelling to Canada to study, you will need a student study permit/student visa awarded by the Canadian Embassy before travelling to Canada.
International applicants must take their letter of acceptance to the nearest Canadian Embassy to apply for a Student Study Permit/Student Visa.
An immigration officer will help with next steps.
Information about the application for study permits to study in Canada, can be found on the Government of Canada website.
Important Documents to Bring to Canada
An official letter of acceptance from Eastern Academy
A valid Study Permit to study in Canada.
Medical Insurance coverage during your entire stay in Canada. (programs over a year are eligible for our provincial health care plan)
Evidence of adequate funds to live and study in Canada.
Evidence of adequate funds for return transportation.
A valid passport.
Community Resources for Students
Click here for community resource information.
Financial Information
International students can pay their school-related fees in their local currency and get the best exchange rate – Guaranteed! Register online at https://www.paymytuition.com to complete your payment.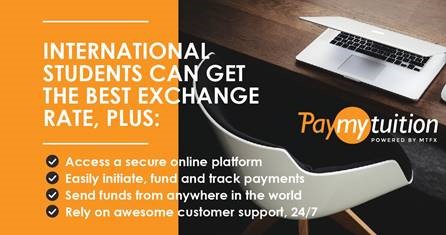 Insurance
International students are required to have insurance while studying in Canada. Proof of insurance (provider, policy number, and a copy of insurance certificate) must be provided to Eastern Academy prior to registering.
If you do not have insurance, we can help you find a provider.
Living in Newfoundland and Labrador
We want to support you as you plan to get settled in Newfoundland and Labrador. You may have many questions about what it would be like living in your new home. We hope the information below can answer some of those questions.
Visit Destination St. John's to learn more about life in the province's capital!
Housing
Things to keep in mind when you are looking for an apartment, house or room to rent.
Location – is it close to college; shopping centres; on a city bus route;
Rental Costs – A one-bedroom apartment average cost would be $950.00+ (CDN) or a larger apartment average cost would be $1,000.00+ (CDN). Ask what is included in the rent – ie. heat/lights/snow cleaning/wifi. Two months of rental fees plus a damage/security deposit may be required before you move into an apartment/house. Damage/security deposit is usually half the cost of your monthly rent.
Lease/Rental Agreement – You may be required to sign a rental/lease agreement. Read and understand agreement prior to signing. The following is a great resource for you to review prior to signing an agreement: https://www.cmhc-schl.gc.ca/en/consumers/renting-a-home/i-am-renting
Utilities
Heat/Lights: Ask the landlord what type of heat source is there and the approximate monthly cost for heating the rental unit – this will give you an idea on how much to budget. There are a variety of heat sources – electric/oil/propane. Depending on the heat sources and size of rental – average utilities would be $150.00 – $350+ (CDN) per month. Newfoundland Power is the provider of electrical services. If heat/lights is not included in the rent – you will need to make arrangements with Newfoundland Power.
The following link is a great resource on how to save energy costs: https://www.ancnl.ca/newcomers-guide/housing/utilities-and-services/#related-resources
Phone Service: A Canadian SIM card may be preferred to save costs. If you are going to have a home phone/landline – you can make arrangements with a communication company such as: Bell Aliant or Rogers Communication. Be sure and ask them about packages that include internet/tv/phone as one package.
Numbers to remember:
911 – Emergency (Police/Ambulance)
811 – Health Line (medical questions)
709 – Newfoundland and Labrador Area Code
311 – Ask about programs and services in St. John's
411 – Rogers Phone Directory
0 – Telephone Operator
Internet/TV: If internet and TV subscriptions are not provided with your rental agreement – you can seek these services through a variety of providers such as Bell Aliant or Rogers Communication. Be sure and ask them about packages that include internet/tv/phone as one package.
Food
There are many options for food choices in Newfoundland and Labrador. Average grocery cost range from $300 – $400 (CDN) per month – depending on eating habits and preferences. The Canada Food Guide recommends to eat a variety of healthy food each day!
Supermarkets: There are a number of large supermarkets that sell some international or ethnic food products. Larger supermarkets in Newfoundland include Sobeys, Dominion, Coleman's, Walmart Superstore and No Frills. Each supermarket has a weekly flyer – always watch for sales!
Corner Stores/Convenience Stores: There are many corner stores or convenience stores that carry many food items – however, their prices are generally higher than the larger supermarkets.
Restaurants: There are a variety of restaurants! Coupons for most fast food establishments can be found online or in your mailbox.
Shopping
There are a variety of places where you can go to shop – you can shop for new items (paying full price – clothing/furniture/linens/personal items) and you have an option to shop for second hand items (paying less).
For some excellent shopping tips and helpful ideas on shopping please click here.
Transportation
Cab services are available in both Corner Brook and St. John's – Uber does not operate in Newfoundland and Labrador. Both cities have a bus service – St. John's Metrobus and Corner Brook Transit.
Refunds
College Refund Policy
Our college refund policy can be found here.
Note: If a study permit/student visa is not awarded to an applicant by the Canadian government and the applicant provides a letter and evidence to support this claim, all fees will be refunded in full except for the application fee.
Frequently Asked Questions
What programs do you offer?
We offer a diverse variety of programs, in the areas of trades, justice, business, creative studies, health and personal care, and animal care and nature. Visit our program directory at https://www.easternacademy.ca/programs/program-overview/ to discover which is the best fit for you.
Is Eastern Academy a Designated Learning Institution?
Eastern Academy is formally recognized by the Canadian government as a "Designated Learning Institution" (DLI) and is fully permitted to accept and train international students.
The Eastern Academy Designated Institution Number is O278103348412 – this number applies to all our Newfoundland & Labrador campuses. To be a DLI means that the school has been evaluated by authorities and deemed to be reliable, legitimate and to have met the rigid standards needed to host students from abroad.
When do programs start?
We accept students throughout the year. For a detailed list of upcoming start dates, visit here.
What are your student policies?
Our student policies can be found here.
Do I need to be vaccinated?
COVID 19 Vaccination is not required to attend classes at Eastern Academy. However, employers may require vaccination. This is important to remember if a work term is a part of your program, or you plan to work part-time while you study.
Will there be an arrival service?
You will be met at the airport upon arrival by a welcoming member of the Eastern Academy family. Transportation to your new place of residence will be provided. You will also be given a care package – this includes such things as snacks, tea/coffee, and milk – to help you settle in. During the first days of registration you will have tours of both the campus and the city.
Can I work part time while I am in school?
Yes! You can work up to 20 hours per week while you are in school. There are many opportunities for part-time work in St. John's, NL
How can I learn more about Newfoundland and Labrador?
Learn more about our beautiful province at https://www.newfoundlandlabrador.com.
For more information
For any other inquiries or to get started, we would love to hear from you! Contact us by email at internationalstudent@easternacademy.ca, WhatsApp us at 1-709-637-2156.