College Events & Key Dates
*Important Note: If you are having difficulty submitting this form or do not receive an email confirming your submission, please call us at
1.844.397.0777
or email us at
info@easternacademy.ca
College Events & Key Dates
Campus Life
At Eastern Academy your personal and professional development is important to us.
Throughout your time in your program, campuses plan a variety of events to help you feel your school's spirit. Many of these events include:
themed campus lunches
social gatherings
community fundraisers
campus contests and more
Each year we host campus socials to celebrate Christmas, Halloween and other key holidays. Our students and staff are also very active in the community and do regular fundraisers for those in need and volunteer hundreds of hours back to many local teams, groups and charities – both inside and outside their field of study.
We also welcome all students to form any club, sports teams, group or association that interests them and their classmates. We will assign you a staff mentor to help make it happen and ensure that you get the college support you need.
Taking a leadership role in College will be very rewarding, a lot of fun and look amazing on your resume.
When you attend our campus, you will feel a sense of family. The staff is very welcoming and committed to see you grow and develop as an individual.
Key Dates
August 03, 2022
-
Regatta Day (Weather Dependent)
August 22, 2022
-
Staff Professional Development Day (No Classes)
September 05, 2022
-
Labour Day (No Classes)
October 10, 2022
-
Thanksgiving Day (No Classes)
November 11, 2022
-
Remembrance Day (No Classes)
December 19, 2022
-
Christmas Break Begins
December 30, 2022
-
Christmas Break Ends
Happy "Pride Month"
Posted June 1, 2022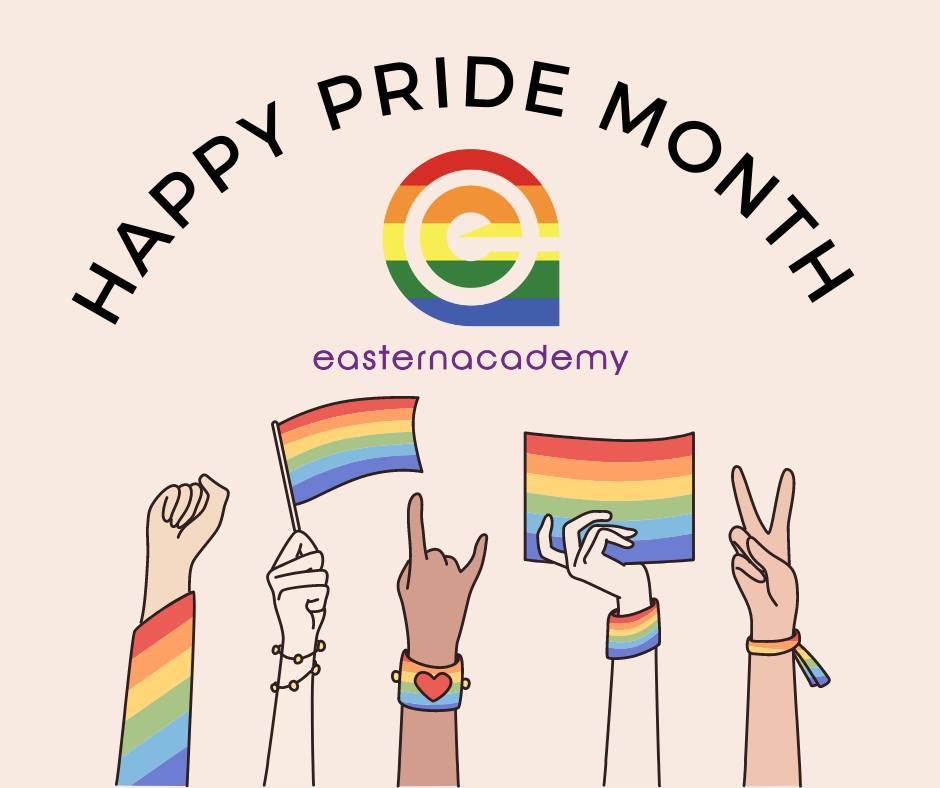 Love Is Universal!!
---
Accounting and Payroll Administrator Students Show Their Rainbow Colours For "Pride Month"
Posted June 6, 2022
We love to see this!
Some of Eastern Academy's Accounting & Payroll and Business Administration students (and instructor) dressed in their rainbow best last week to celebrate "Pride Month".
What a way to show that "Love is universal".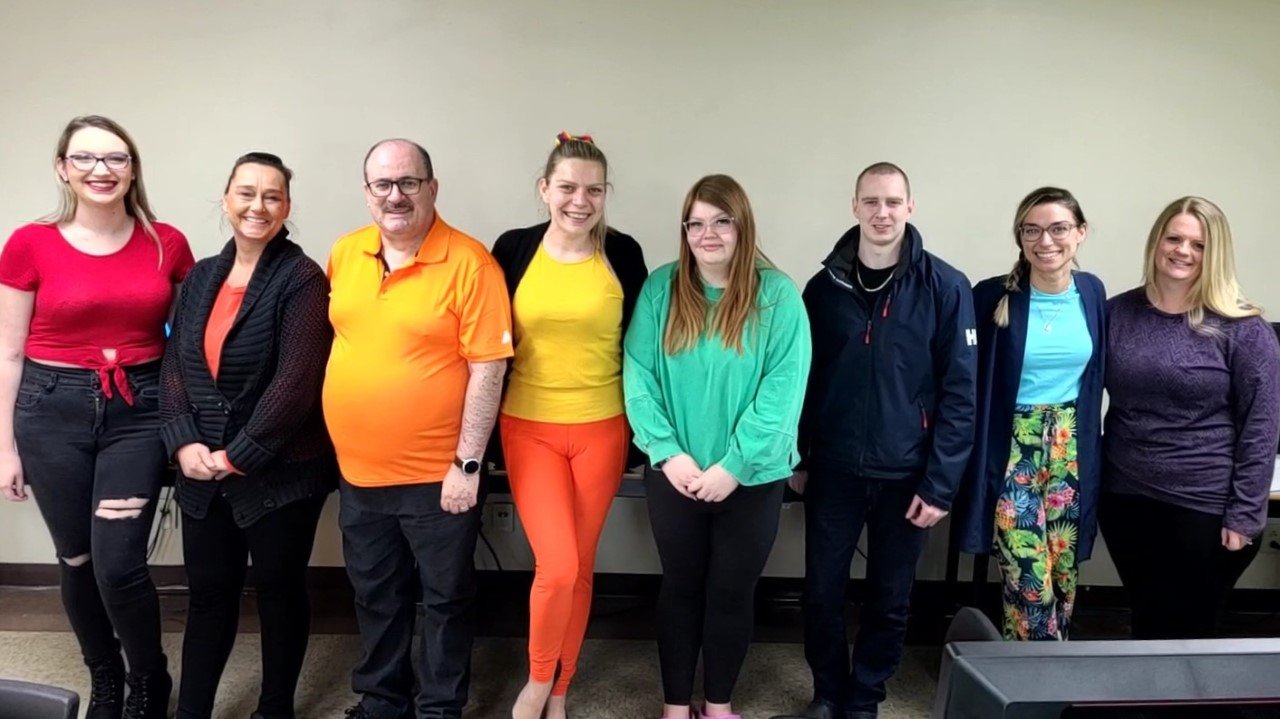 ---
Its Survey Time
Posted May 16, 2022
Eastern Academy are asking all current students to please complete a short, anonymous survey – the link is in your student email inbox!
In exchange for your time, you'll have a chance to win one of several great prizes.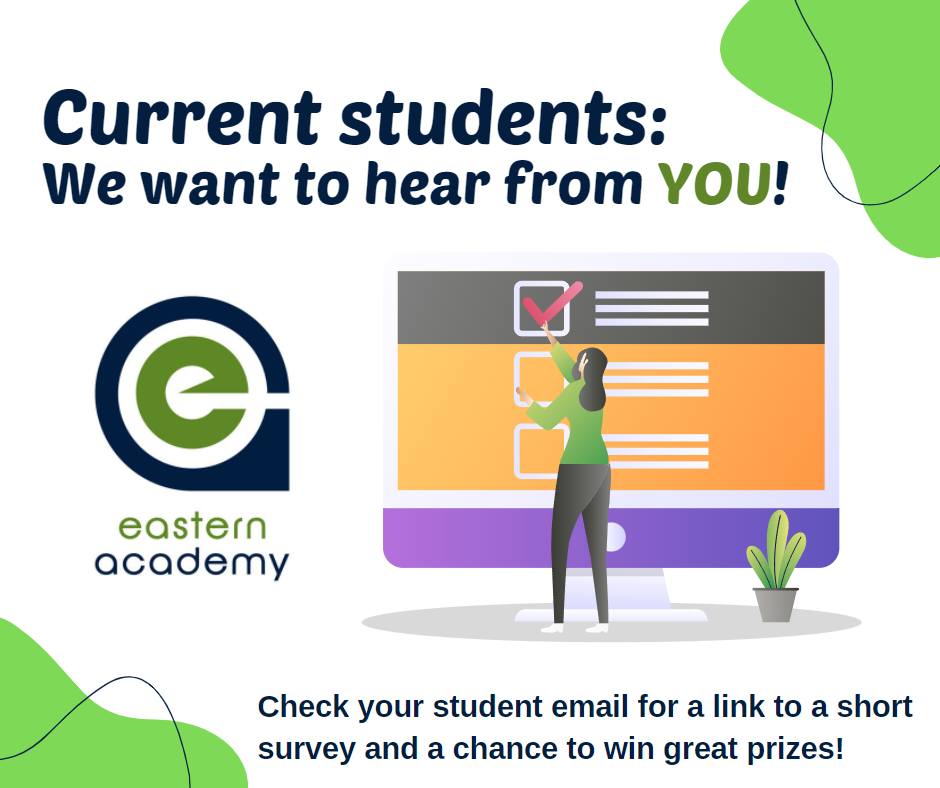 ---
A Shoutout To Our Eastern Academy "Personal Care Attendant Instructor", Diane
Posted February 22, 2022
Shoutout to one of our amazing instructors, our PCA instructor Diane!
On February 18, 2022, her class surprised her with treats and a card to show their appreciation for her and said "she deserves everything and more – what a wonderful teacher" – what a special class!
Thank you to Diane for all you do for your students, we are so lucky to have you on the Eastern Academy team!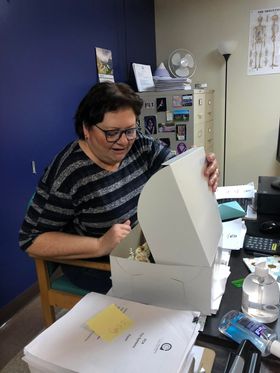 Eastern Academy "Personal Care Attendant" Instructor, Diane, opens a box filled with a special surprise.
---
Eastern Academy Renews Articulation Agreement with Supply Chain Canada
Posted January 28, 2022
Eastern Academy are thrilled to announce that we have renewed our articulation agreement with Supply Chain Canada . This agreement gives our Supply Chain and Logistics graduates advanced standing towards Supply Chain Canada's SCMP designation, Canada's most sought-after professional designation in the supply chain profession.
As part of this agreement, students are also eligible for FREE Supply Chain Canada memberships! This is a great opportunity for Eastern Academy students to access their country-wide mentorship program, attend exclusive events and learn more about their ever-changing industry.
To learn more about the Supply Chain and Logistics program at Eastern Academy's Supply Chain and Logistics program, visit us at https://www.easternacademy.ca/programs/supply-chain/supply-chain-and-logistics/.
To learn more about Supply Chain Canada's Recognition of Prior Learning, visit them at https://www.supplychaincanada.com/education-and-training/pathways-to-scmp-designation.
To apply for a Supply Chain Canada student membership, visit https://nlportal.supplychaincanada.com/mpower/membership/newmember-contact.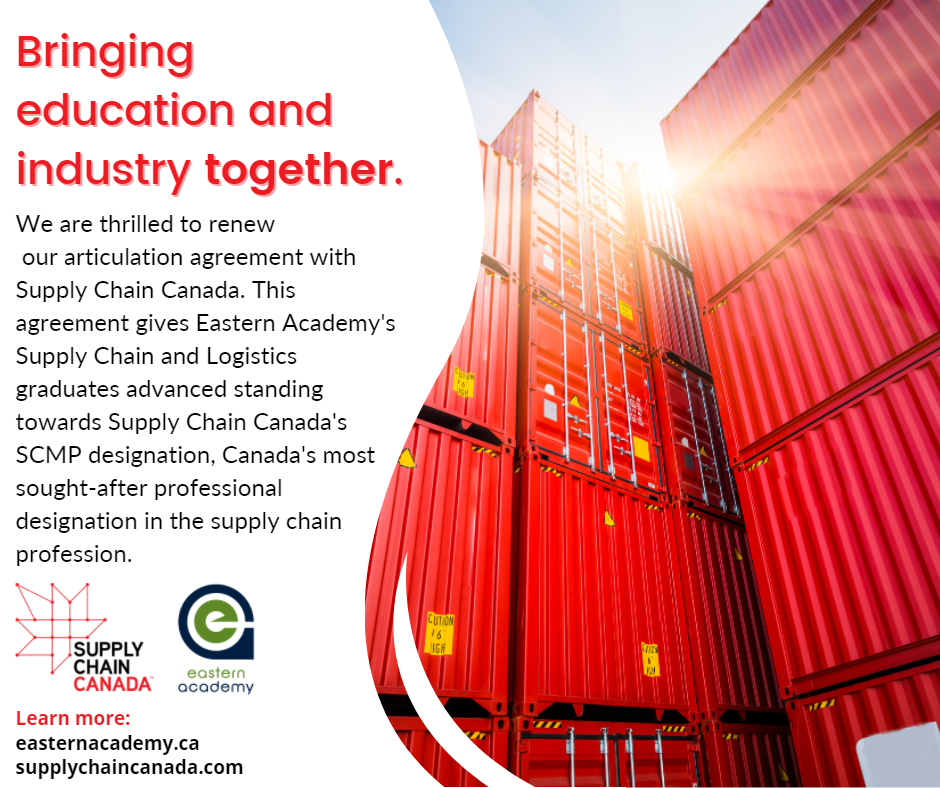 ---
Eastern Academy "Inspiration Contest" Winners
Posted November 8, 2021
Check out the video for the winners' stories and entries.
Winner listing:
– Christopher Denine
– Ena Maris Brennan
– Sarah Puddester
– Paulette Reelis
Thank you to everyone who shared your beautiful stories! All winners will be contacted directly to claim your prize.
Stay tuned for our next contest coming up soon!
---
Eastern Academy "Spirit Week" Highlights
Posted November 2, 2021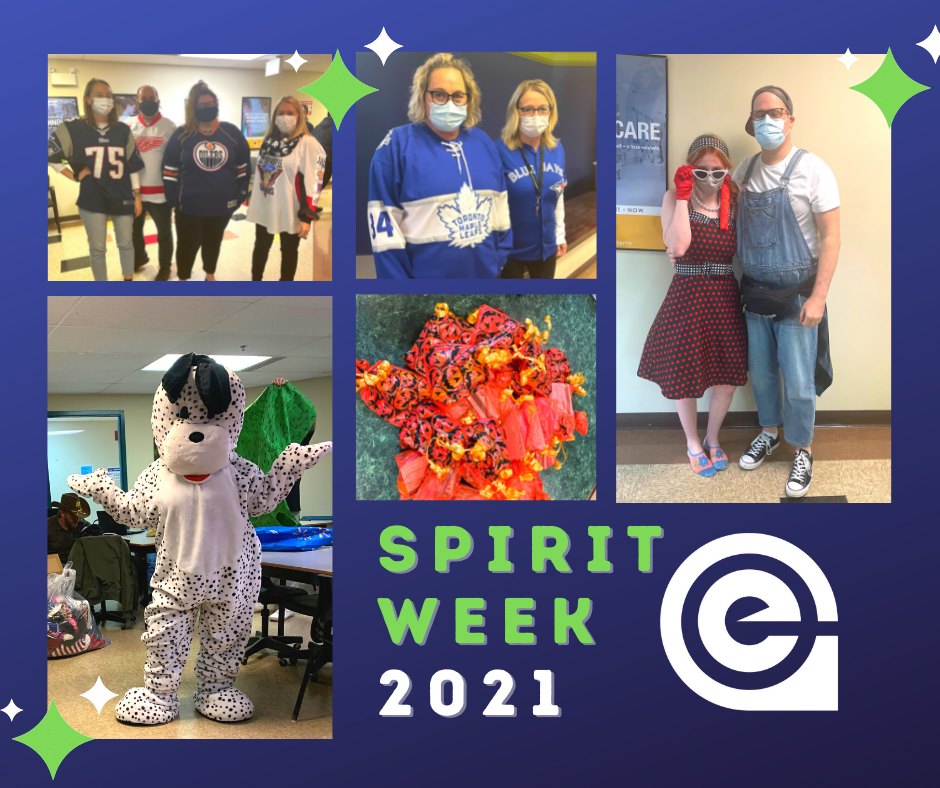 ---
Massage Addict partners with Eastern Acadmey to offer new scholarships
Posted July 20, 2021
There is high demand for Massage Therapists across Canada.
Massage Addict is continuously growing to meet that demand.
They have clinics across Canada, including 2 in St. John's.
Eastern Academy has partnered with Massage Addict to offer new scholarships to students looking to train in the field, and employment incentives when you graduate.
Reach out today to learn more!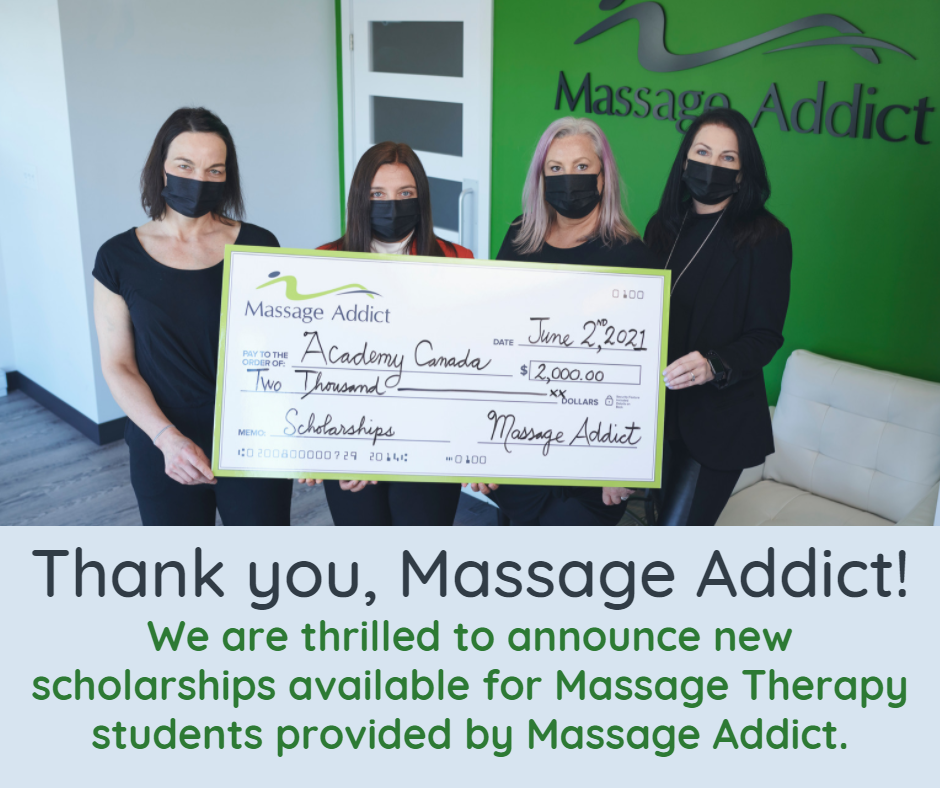 ---
Massage Addict Partners With Academy Canada and Eastern Academy Offering Scholarships To Massage Therapy Students in Newfoundland and Labrador
Posted June 16, 2021
Massage Therapy is a major growth industry, with more than 10,000 Registered Massage Therapists (RMTs) across Canada1, and with more Canadians than ever looking to actively and proactively manage their personal health and wellbeing. According to the Fraser Institute, 25 per cent more Canadians have tried Massage Therapy for their routine healthcare needs over the past decade, as a way to address back or neck issues, pain management, muscle tension and more.
With this increased interest in Massage Therapy support, Massage Addict, Canada's premier provider of therapeutic services,recognized the demand for Registered Massage Therapists and, starting this year, will support Massage Therapy students at Academy Canada and Eastern Academy in Newfoundland and Labrador. Massage Addict will fund two $1000 entrance scholarships as well as two $1000 graduate scholarships per institution. A $5000 Tuition Reimbursement Program for one student in the province will also be funded. This is a total of $13,000 annually. "We are excited to be partnering with both Academy Canada and Eastern Academy on initiatives to help people realize their dreams of becoming Registered Massage Therapists," says Fraser Clarke, CEO at Massage Addict. "As more and more Canadians add Massage Therapy to their regular wellness routines, the demand for Registered Massage Therapists will only increase."
Academy Canada and Eastern Academy, Newfoundland and Labrador's leading massage therapy schools, are excited about this new partnership and the opportunities it will bring. "Academy Canada is thrilled about the support Massage Addict is providing to our students at both the St. John's and Corner Brook campuses," says Anita Morgan, Regional Director at Academy Canada. "We greatly appreciate Massage Addict's generosity." Deborah Guest, Campus Director at Eastern Academy,echoes this sentiment: "Eastern Academy is proud to help future Registered Massage Therapists train to join this amazing field. Connecting graduates to rewarding employment is top priority for each and every student who walks through our doors. Thank you to Massage Addict for the support."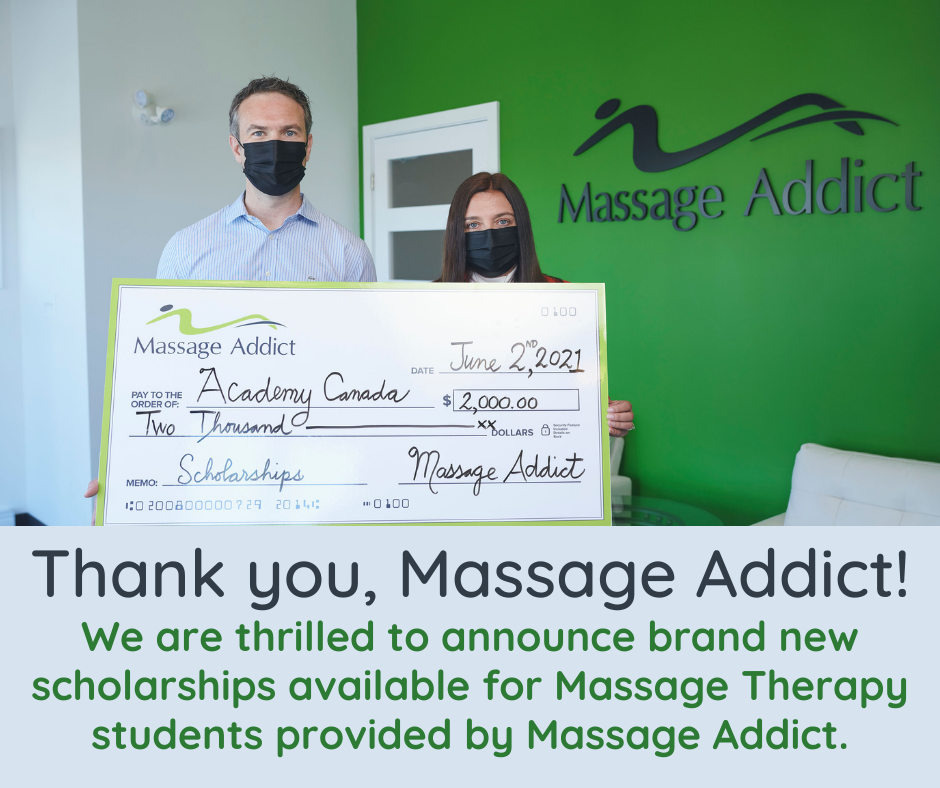 About Massage Addict
Massage Addict is the premier provider of massage therapy, chiropractic care, acupuncture, and reflexology in Canada. Since 2008, the Canadian owned-and-operated health care company has offered high-quality therapeutic treatments, currently helping over 60,000Canadians per month. Massage Addict has over 1,500 practicing therapists and recruits only the highest caliber of Registered Massage Therapists, Licensed Chiropractors, Registered Acupuncturists and Certified Reflexologists. Massage Addict offers a range of therapeutic services to help clients manage pain, stress, anxiety, injuries and muscle tension, as well as to increase energy levels and enhance general health. Massage Addict is a proud partner of The Arthritis Society. http://www.MassageAddict.ca
1 https://www.massagetherapycanada.com/report-on-research-1244/#:~:text=There%20are%20an%20estimated%2010%2C000,for%20its%20massage%20therapy%20practitione
---
Supply Chain Canada – Earn Your SCMP Designation
Are you a supply chain professional looking to take your career to the next level? Join the Supply Chain Management Professional (SCMP) Designation, Canada's most sought-after designation for supply chain professionals.
Supply Chain Canada's Spring Term starts May 2021. Apply now through the various Recognition of Prior Learning (RPL) pathway agreements that they have with post-secondary institutions across Canada, including Eastern Academy.
Visit Supply Chain Canada Website's "Pathways To SCMP Designation" page at https://www.supplychaincanada.com/education-and-training/pathways-to-scmp-designation for more information.
Supply Chain Canada has 50+ RPL Agreements nationwide. Stay tuned as we introduce you to our Academic Partners across the country.
If you have completed your business or supply chain related course from one of the private colleges on this list, you are eligible to receive advanced standing to the SCMP Program.
CDI College
Eastern Academy
Eastern College
Langara College
Robertson College
Reeves College
Trillium College
triOS College
Vancouver Career College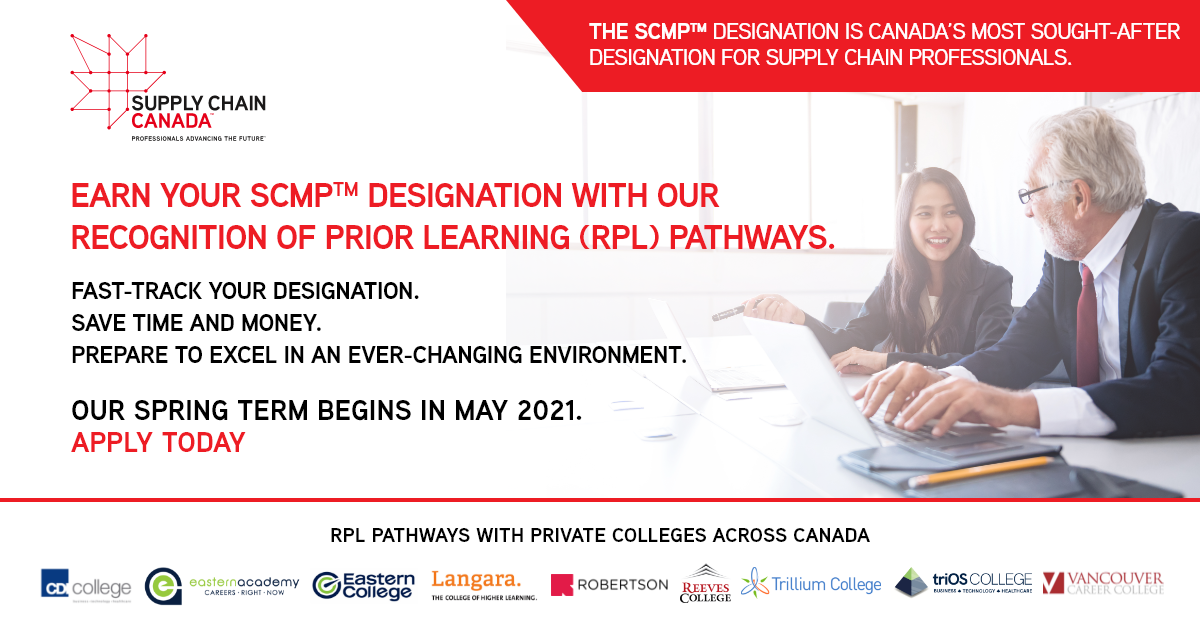 ---
AC/EA Classifieds
Academy Canada and Eastern Academy have partnered to create a Facebook page called "AC/EA Classifieds." It allows students and the public to advertise and trade college related items such as:
Accommodations
Items Available (must be course related)
Transportation Arrangements
Used Books
IMPORTANT DISCLAIMER: This Facebook page is provided for the use of students and service providers. The quality/reliability/price of services, products, vendors or consumers making offers here are not reviewed by either Academy Canada or Eastern Academy. We accept no responsibility for arrangements made through this page and encourage participants to use their own discretion. The Administrator of this page reserves the right to delete any inappropriate posts.
Mandatory Face Mask Advisory
Effective August 24, 2020, Eastern Academy students, staff, and instructors must wear a non-medical face mask while inside the building to conform with Newfoundland and Labrador Public Health regulations.
However, if you're in a seated area, such as a classroom, or have a medical exemption, you have an option to take off your face mask.
When in doubt, wear a face mask.
Please be advised to wearing a non medical mask is no substitution for physical distancing, so please remain two metres apart from another person.
For more information about Newfoundland and Labrador's "Non-Medical Mask (NMM) Use in Indoor Public Spaces" regulations, please visit the Government of Newfoundland and Labrador's COVID-19 "Non-Medical Mask (NMM) Use in Indoor Public Spaces" page at https://www.gov.nl.ca/covid-19/non-medical-masks-use-in-public/.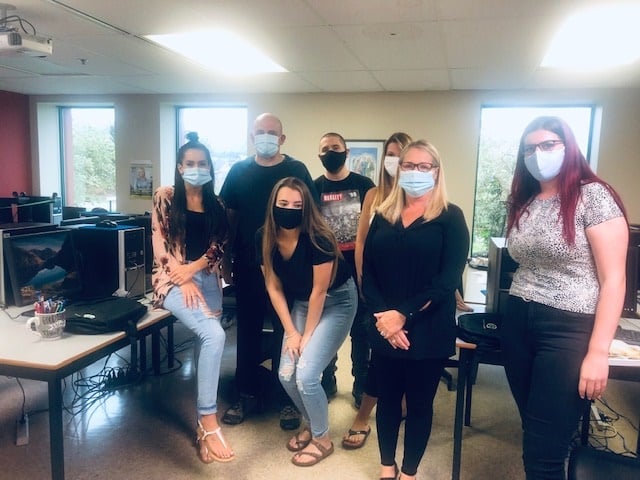 Starting August 24, 2020, Eastern Academy students, staff, and instructors are wearing non-medical masks and maintaining physical distancing to do their part to fight a war with COVID-19.