College Events & Key Dates
College Events & Key Dates
Campus Life
At Eastern Academy your personal and professional development is important to us.
Throughout your time in your program, campuses plan a variety of events to help you feel your school's spirit. Many of these events include:
themed campus lunches
social gatherings
community fundraisers
campus contests and more
Each year we host campus socials to celebrate Christmas, Halloween and other key holidays. Our students and staff are also very active in the community and do regular fundraisers for those in need and volunteer hundreds of hours back to many local teams, groups and charities – both inside and outside their field of study.
We also welcome all students to form any club, sports teams, group or association that interests them and their classmates. We will assign you a staff mentor to help make it happen and ensure that you get the college support you need.
Taking a leadership role in College will be very rewarding, a lot of fun and look amazing on your resume.
When you attend our campus, you will feel a sense of family. The staff is very welcoming and committed to see you grow and develop as an individual.
Key Dates
February 25, 2019
-
Staff PD Day
April 19, 2019
-
Good Friday
April 22, 2019
-
Easter Monday
May 20, 2019
-
Victoria Day
June 07, 2019
-
Staff PD Day
June 24, 2019
-
St. John's Day
July 01, 2019
-
Canada Day
August 07, 2019
-
Regatta Day
September 02, 2019
-
Labour Day
September 20, 2019
-
Staff PD Day
AC Classifieds
Academy Canada and Eastern Academy have partnered to create a Facebook page called "AC/EA Classifieds." It allows students and the public to advertise and trade college related items such as:
Accommodations
Items Available (must be course related)
Transportation Arrangements
Used Books
IMPORTANT DISCLAIMER: This Facebook page is provided for the use of students and service providers. The quality/reliability/price of services, products, vendors or consumers making offers here are not reviewed by either Academy Canada or Eastern Academy. We accept no responsibility for arrangements made through this page and encourage participants to use their own discretion. The Administrator of this page reserves the right to delete any inappropriate posts.
Volunteer Opportunities
Buckmaster's Circle "Boys and Girls Club"
The Buckmaster's Circle "Boys and Girls Club" on Buckmasters Circle are currently recruiting a few volunteers with their After School Program.
Shifts are weekly from 3:30 PM – 5:30 PM, and 6:30 PM – 9:00 PM.
Volunteers will be responsible for assisting Program Staff with duties such as homework, playing with children, sports, gaming, to snack prep or cleaning.
This program runs until the end of the school year in June. They may have some additional events which interested volunteers can participate but not required.
Volunteers are required to get a Code of Conduct and Vulnerable sector check completed and attend an interview.
For more information, please contact mpicco@bgcstjohns.ca
Other Campus Life Articles
Building Connections With Our Partners, including the Newfoundland and Labrador Construction Association (NLCA)
Posted November 19, 2018
Thanks to Newfoundland and Labrador Construction Association for inviting College Representatives, Suzanne Jordan, Colleen Power, Angela Bennett, and James Loder, to present on our "Workterm Program" on November 19, 2018.
Hoping to build connections between our great employers and students!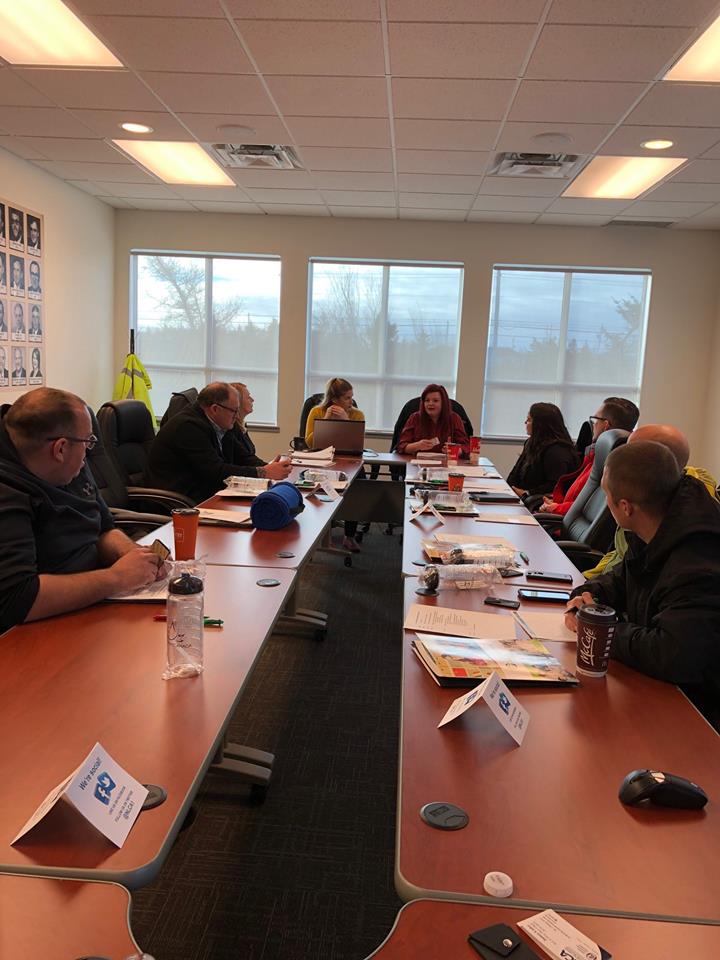 Academy Canada's apprenticeship and trades representatives give a presentation during the Newfoundland and Labrador Construction Association (NLCA) meeting.
Eastern Academy on LinkedIn
Posted November 28, 2018
Good news for Eastern Academy students, staff, and instructors.
Eastern Academy's profile page is now on LinkedIn.
Our LinkedIn page is found at https://www.linkedin.com/company/eastern-academy/
Apprenticeship Incentive Grant for Women
Posted December 19, 2018
In Budget 2018, the Government of Canada announced a new Apprenticeship Incentive Grant for Women to further support women in entering, progressing, and completing their training in Red Seal trades where women are under-represented.
The Apprenticeship Incentive Grant for Women (AIG-W) is a taxable cash grant of $3,000 per year/level (or equivalent) up to a maximum amount of $6,000 per person.
Applications are now being accepted. For more information on eligibility requirements and to apply, please visit here.
Sport NL – Athletic Excellence Fund
Posted December 28, 2018
Sport NL and the Government of Newfoundland and Labrador offers numerous scholarships for aspiring athletes pursuing post secondary education.
For more information, please click here.
Massage Therapy Students Give Back To Ronald McDonald House
Posted January 12, 2019
On January 12, 2019, our Massage Therapy students spent a day at Ronald McDonald House treating families to massages and baked goods.
Eastern Academy thanks our Massage Therapy students for providing a service to families of children battling cancer.
Massage Therapy students treated Ronald McDonald House guests to a massage.