College Events & Key Dates
*Important Note: If you are having difficulty submitting this form or do not receive an email confirming your submission, please call us at
1.844.397.0777
or email us at
info@easternacademy.ca
College Events & Key Dates
Campus Life
At Eastern Academy your personal and professional development is important to us.
Throughout your time in your program, campuses plan a variety of events to help you feel your school's spirit. Many of these events include:
themed campus lunches
social gatherings
community fundraisers
campus contests and more
Each year we host campus socials to celebrate Christmas, Halloween and other key holidays. Our students and staff are also very active in the community and do regular fundraisers for those in need and volunteer hundreds of hours back to many local teams, groups and charities – both inside and outside their field of study.
We also welcome all students to form any club, sports teams, group or association that interests them and their classmates. We will assign you a staff mentor to help make it happen and ensure that you get the college support you need.
Taking a leadership role in College will be very rewarding, a lot of fun and look amazing on your resume.
When you attend our campus, you will feel a sense of family. The staff is very welcoming and committed to see you grow and develop as an individual.
Key Dates
October 11, 2021
-
Thanksgiving Day (No Classes)
December 20, 2021
-
Christmas Break Begins
December 31, 2021
-
Christmas Break Ends
January 03, 2022
-
New Years Day (Observed, No Classes)
February 21, 2022
-
Eastern Academy Day (No Classes)
March 14, 2022
-
Staff Professional Development Day (No Classes)
April 15, 2022
-
Good Friday (No Classes)
April 18, 2022
-
Easter Monday (No Classes)
May 23, 2022
-
Victoria Day (No Classes)
June 20, 2022
-
Staff Professional Development Day (No Classes)
July 01, 2022
-
Canada Day (No Classes)
August 03, 2022
-
Regatta Day (Weather Dependent)
August 22, 2022
-
Staff Professional Development Day (No Classes)
September 05, 2022
-
Labour Day (No Classes)
October 10, 2022
-
Thanksgiving Day (No Classes)
November 11, 2022
-
Remembrance Day (No Classes)
December 19, 2022
-
Christmas Break Begins
December 30, 2022
-
Christmas Break Ends
Congratulations "High School Graduates"
Congratulations, Class of 2021!!
As you approach the final stretch of your last year in secondary school, we would like to give you our best wishes. You should be very proud of yourselves and your accomplishments!
We have a special message for this year's graduates.
Featured in this message are Tony Stack (Newfoundland and Labrador English School District), Deborah Guest (NL Association of Career Colleges and Eastern Academy), and Krista Kelly-Cox (BAC Masonry College).
To all the newly graduated students joining us this Fall, we can't wait to meet you.
COVID-19 Vaccination Advisory
Newfoundland and Labrador Chief Medical Officer of Health, Dr. Janice Fitzgerald, wishes to remind anyone aged 12 or older looking to book an appointment for the COVID-19 vaccine to get it done.
You can book your appointment at http://gov.nl.ca/covid-19/vaccine.
---
Canada's Sports Hall of Fame "Virtual Induction Ceremony" and "Order of Sport" Award Presentations
Posted September 15, 2021
On May 27, 2020, Canada's Sports Hall of Fame announced their inductees in the "Athlete" and "Builder" categories for their "Class of 2020-2021", including our own Webmaster, Jack Barrett.
Due to the COVID-19 pandemic, the Induction Ceremony and "Order of Sport" Award Presentations were postponed.
Good news is that the Canada's Sports Hall of Fame "Virtual Induction Ceremony" and "Order of Sport" Award Presentations will be taking place on Sunday, October 3, 2021, starting at 9:00 PM Newfoundland Time.
If anyone is interested in getting tickets for this event, please visit the "Order of Sport" website's tickets page at https://orderofsport.ca/tickets/.
Tickets are free.
In the meantime, you can watch Jack Barrett's "Special Invite" video below.
Video credit: "Canada's Sports Hall of Fame"
---
Massage Addict partners with Eastern Acadmey to offer new scholarships
Posted July 20, 2021
There is high demand for Massage Therapists across Canada.
Massage Addict is continuously growing to meet that demand.
They have clinics across Canada, including 2 in St. John's.
Eastern Academy has partnered with Massage Addict to offer new scholarships to students looking to train in the field, and employment incentives when you graduate.
Reach out today to learn more!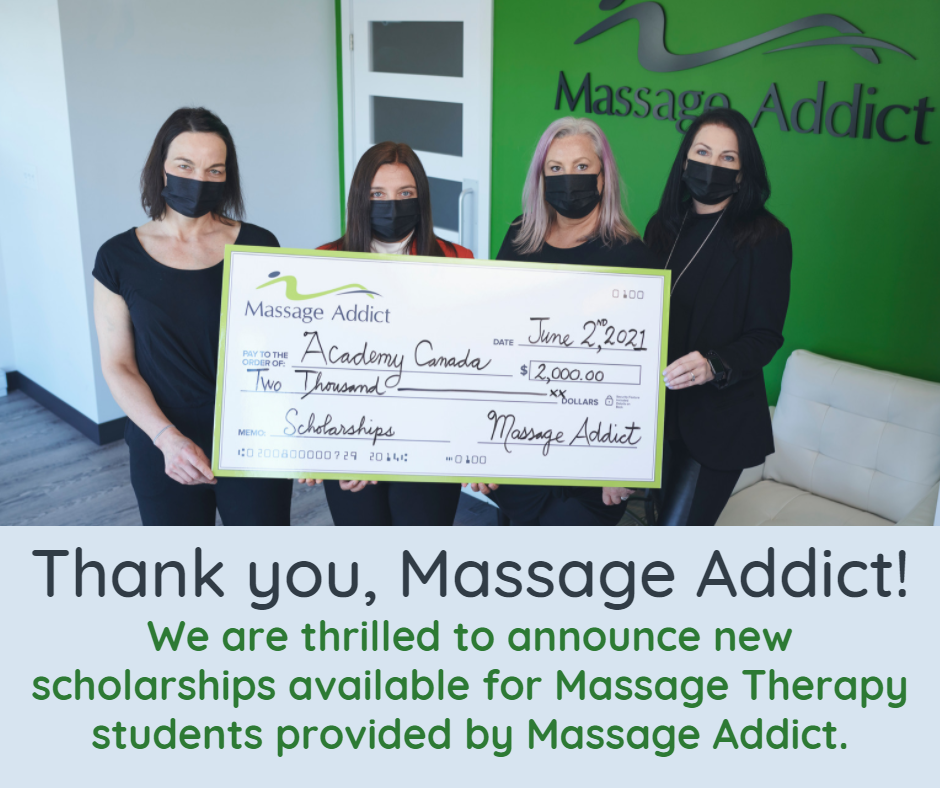 ---
"Native Women's Council of Canada" Scholarships
Posted July 7, 2021
The Native Women's Association of Canada will be offering three scholarships this year, each with different criteria, applications, and due dates.
Below are brief introductions to each scholarship.
Please visit http://www.nwac.ca or email scholarships@nwac.ca for more information or to apply.
Helen Bassett Student Award for Indigenous women, Two-Spirit, or gender-diverse peoples pursuing post-secondary studies, (priority given to those in law or related fields) from each of the four directions: North, South, East, and West.
Application Deadline is August 2, 2021, at 11:59 PM Eastern Time.
Michael Melancon-Koffend Student Award for young Indigenous women, Two-Spirit, or gender-diverse students from each province and territory.
Applications deadline is July 23, 2021, at 11:59 PM Eastern Time.
Nellie Makokis Carlson Commemorative Student Award for Indigenous single mothers, two-spirited or gender diverse persons, attending a post-secondary institute.
Applications deadline is July 26, 2021, at 11:59 PM Eastern Time.
---
Massage Addict Partners With Academy Canada and Eastern Academy Offering Scholarships To Massage Therapy Students in Newfoundland and Labrador
Posted June 16, 2021
Massage Therapy is a major growth industry, with more than 10,000 Registered Massage Therapists (RMTs) across Canada1, and with more Canadians than ever looking to actively and proactively manage their personal health and wellbeing. According to the Fraser Institute, 25 per cent more Canadians have tried Massage Therapy for their routine healthcare needs over the past decade, as a way to address back or neck issues, pain management, muscle tension and more.
With this increased interest in Massage Therapy support, Massage Addict, Canada's premier provider of therapeutic services,recognized the demand for Registered Massage Therapists and, starting this year, will support Massage Therapy students at Academy Canada and Eastern Academy in Newfoundland and Labrador. Massage Addict will fund two $1000 entrance scholarships as well as two $1000 graduate scholarships per institution. A $5000 Tuition Reimbursement Program for one student in the province will also be funded. This is a total of $13,000 annually. "We are excited to be partnering with both Academy Canada and Eastern Academy on initiatives to help people realize their dreams of becoming Registered Massage Therapists," says Fraser Clarke, CEO at Massage Addict. "As more and more Canadians add Massage Therapy to their regular wellness routines, the demand for Registered Massage Therapists will only increase."
Academy Canada and Eastern Academy, Newfoundland and Labrador's leading massage therapy schools, are excited about this new partnership and the opportunities it will bring. "Academy Canada is thrilled about the support Massage Addict is providing to our students at both the St. John's and Corner Brook campuses," says Anita Morgan, Regional Director at Academy Canada. "We greatly appreciate Massage Addict's generosity." Deborah Guest, Campus Director at Eastern Academy,echoes this sentiment: "Eastern Academy is proud to help future Registered Massage Therapists train to join this amazing field. Connecting graduates to rewarding employment is top priority for each and every student who walks through our doors. Thank you to Massage Addict for the support."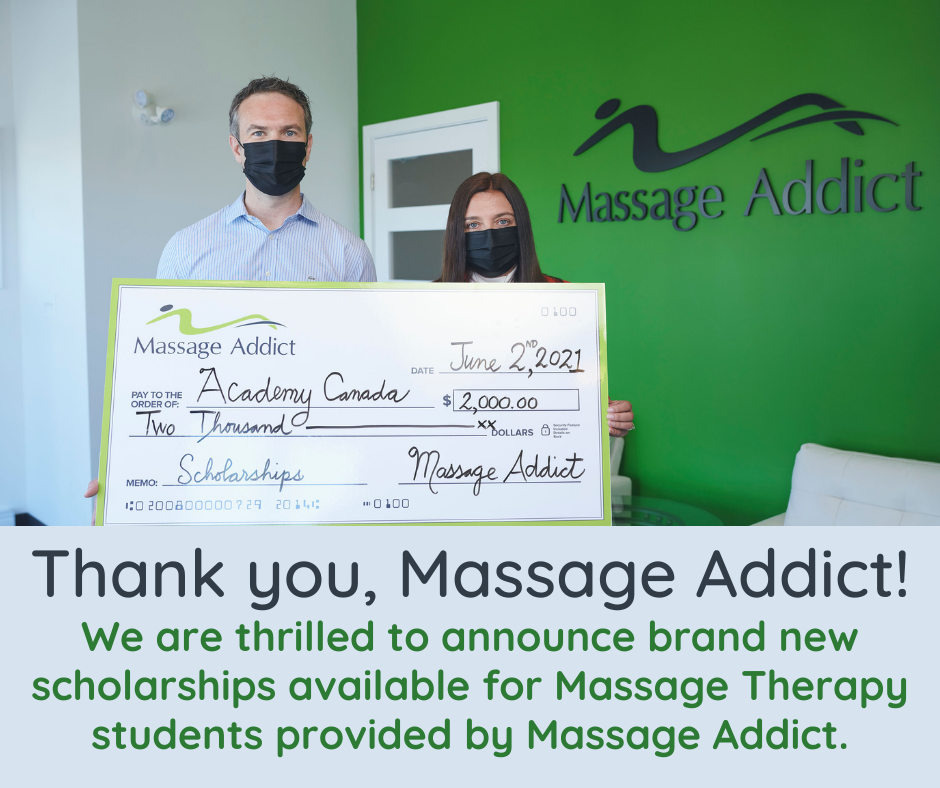 About Massage Addict
Massage Addict is the premier provider of massage therapy, chiropractic care, acupuncture, and reflexology in Canada. Since 2008, the Canadian owned-and-operated health care company has offered high-quality therapeutic treatments, currently helping over 60,000Canadians per month. Massage Addict has over 1,500 practicing therapists and recruits only the highest caliber of Registered Massage Therapists, Licensed Chiropractors, Registered Acupuncturists and Certified Reflexologists. Massage Addict offers a range of therapeutic services to help clients manage pain, stress, anxiety, injuries and muscle tension, as well as to increase energy levels and enhance general health. Massage Addict is a proud partner of The Arthritis Society. http://www.MassageAddict.ca
1 https://www.massagetherapycanada.com/report-on-research-1244/#:~:text=There%20are%20an%20estimated%2010%2C000,for%20its%20massage%20therapy%20practitione
Supply Chain Canada – Earn Your SCMP Designation
Are you a supply chain professional looking to take your career to the next level? Join the Supply Chain Management Professional (SCMP) Designation, Canada's most sought-after designation for supply chain professionals.
Supply Chain Canada's Spring Term starts May 2021. Apply now through the various Recognition of Prior Learning (RPL) pathway agreements that they have with post-secondary institutions across Canada, including Eastern Academy.
Visit Supply Chain Canada Website's "Pathways To SCMP Designation" page at https://www.supplychaincanada.com/education-and-training/pathways-to-scmp-designation for more information.
Supply Chain Canada has 50+ RPL Agreements nationwide. Stay tuned as we introduce you to our Academic Partners across the country.
If you have completed your business or supply chain related course from one of the private colleges on this list, you are eligible to receive advanced standing to the SCMP Program.
CDI College
Eastern Academy
Eastern College
Langara College
Robertson College
Reeves College
Trillium College
triOS College
Vancouver Career College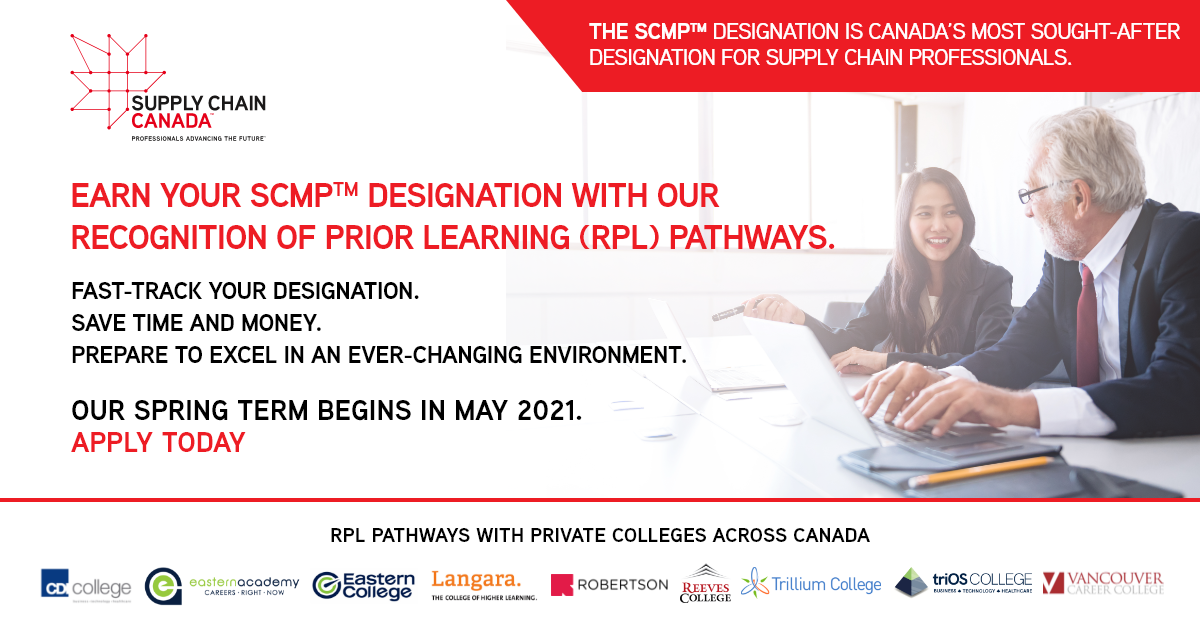 ---
AC/EA Classifieds
Academy Canada and Eastern Academy have partnered to create a Facebook page called "AC/EA Classifieds." It allows students and the public to advertise and trade college related items such as:
Accommodations
Items Available (must be course related)
Transportation Arrangements
Used Books
IMPORTANT DISCLAIMER: This Facebook page is provided for the use of students and service providers. The quality/reliability/price of services, products, vendors or consumers making offers here are not reviewed by either Academy Canada or Eastern Academy. We accept no responsibility for arrangements made through this page and encourage participants to use their own discretion. The Administrator of this page reserves the right to delete any inappropriate posts.
Mandatory Face Mask Advisory
Effective August 24, 2020, Eastern Academy students, staff, and instructors must wear a non-medical face mask while inside the building to conform with Newfoundland and Labrador Public Health regulations.
However, if you're in a seated area, such as a classroom, or have a medical exemption, you have an option to take off your face mask.
When in doubt, wear a face mask.
Please be advised to wearing a non medical mask is no substitution for physical distancing, so please remain two metres apart from another person.
For more information about Newfoundland and Labrador's "Non-Medical Mask (NMM) Use in Indoor Public Spaces" regulations, please visit the Government of Newfoundland and Labrador's COVID-19 "Non-Medical Mask (NMM) Use in Indoor Public Spaces" page at https://www.gov.nl.ca/covid-19/non-medical-masks-use-in-public/.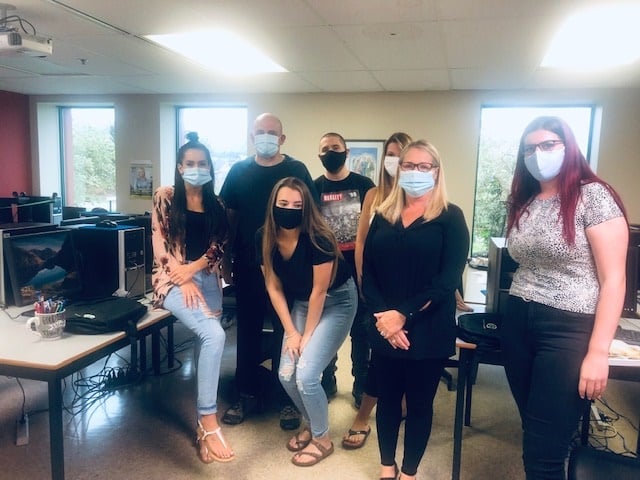 Starting August 24, 2020, Eastern Academy students, staff, and instructors are wearing non-medical masks and maintaining physical distancing to do their part to fight a war with COVID-19.
Important Dates Advisories
Staff Professional Development Day Advisory
Posted June 3, 2021
Eastern Academy students and staff are reminded that Staff Professional Development Day scheduled for June 14, 2021 has been postponed to August 20, 2021.
Eastern Academy apologizes for any inconvenience this may cause.
Hold fast "Eastern Academy Nation".
Corona Virus (COVID-19) Prevention and Protection
About Corona Viruses
Human corona viruses cause infections of the nose, throat and lungs. They are most commonly spread from an infected person through:
Respiratory droplets generated when you cough or sneeze
Close, prolonged personal contact, such as touching or shaking hands
Touching something with the virus on it, then touching your mouth, nose or eyes before washing your hands
Current evidence suggests person-to-person spread is efficient when there is close contact.
Preventing Corona Viruses
At this time, there is no vaccine for COVID-19 or any natural health products that are authorized to protect against it.
If you have travelled to Hubei province, China, or Iran in the last 14 days, limit your contact with others for 14 days, starting the day you began your journey to Canada. This means self-isolate and stay at home. Contact the public health authority in your province or territory within 24 hours of arriving in Canada for advice.
If you have COVID-19, reduce contact with others
If you are sick, the following steps will help to reduce contact with others:
Stay at home and self-isolate (unless directed to seek medical care)
If you must leave your home, wear a mask or cover your mouth and nose with tissues, and maintain a 2-metre distance from others
Avoid individuals in hospitals and long-term care centres, especially older adults and those with chronic conditions or compromised immune systems:

Avoid having visitors to your home
Cover your mouth and nose with your arm when coughing and sneezing
Have supplies delivered to your home instead of running errands. Supplies should be dropped off outside to ensure a 2-metre distance
Being Prepared
It is important to know how you can prepare in case you or a family member become ill.
Hygiene
Proper hygiene can help reduce the risk of infection or spreading infection to others:
Wash your hands often with soap and water for at least 20 seconds, especially after using the washroom and when preparing food

Use alcohol-based hand sanitizer if soap and water are not available

When coughing or sneezing:

Cough or sneeze into a tissue or the bend of your arm, not your hand
Dispose of any tissues you have used as soon as possible in a lined waste basket and wash your hands afterwards

Avoid touching your eyes, nose, or mouth with unwashed hands
Clean the following high-touch surfaces frequently with regular household cleaners or diluted bleach (1 part bleach to 9 parts water):

Toys
Toilets
Phones
Electronics
Door Handles
Bedside Tables
Television Remotes
Wearing masks
If you are a healthy individual, the use of a mask is not recommended for preventing the spread of COVID-19.
Wearing a mask when you are not ill may give a false sense of security. There is a potential risk of infection with improper mask use and disposal. They also need to be changed frequently.
However, your health care provider may recommend you wear a mask if you are experiencing symptoms of COVID-19 while you are seeking or waiting for care. In this instance, masks are an appropriate part of infection prevention and control measures. The mask acts as a barrier and helps stop the tiny droplets from spreading you when you cough or sneeze.
Risk of Getting Corona Viruses
At this time, the Public Health Agency of Canada (PHAC) has assessed the public health risk associated with COVID-19 as low for the general population in Canada but this could change rapidly. There is an increased risk of more severe outcomes for Canadians:
Aged 65 and over
With compromised immune systems
With underlying medical conditions
While a COVID-19 outbreak is not unexpected in Canada, our public health system is prepared to respond. PHAC, along with provincial, territorial and community partners, continues to reassess the public health risk, based on the best available evidence as the situation evolves.
The risk to Canadian travellers abroad will vary depending on the destination, as well as the person's age and health status. There are some destinations where the Government of Canada recommends avoiding all travel or all non-essential travel. Check the latest travel health notices often before travelling.
As well, the risk for COVID-19 may be increased for certain settings such as:
Cruise ships
heavily affected areas
international conferences and other large gatherings in enclosed spaces
It is important for all travellers to:
Self-monitor for symptoms of COVID-19 (fever, cough or difficulty breathing) for 14 days after returning to Canada
Avoid places where you cannot easily separate yourself from others if you become ill
If you have even mild symptoms, stay home and call the public health authority in the province or territory you are in to inform them. They will provide advice on what you should do.
We will continue to adapt our risk assessment based on the latest data available.
Products Shipped from China
Corona viruses generally do not survive on surfaces after being contaminated. The risk of spread from products shipped over a period of days or weeks at room temperature is very low.
There is no known risk of corona viruses entering Canada on parcels or packages coming from affected regions in China.
Animal-to-human infection in Canada
There is currently no evidence to suggest that this virus is circulating in animals in Canada. It is possible that some types of animals may be able to get infected with COVID-19, but it is not yet clear whether they would show symptoms.
There are still many unknowns about COVID-19 and this is an area that remains to be studied and understood.
Until we know more, if you have been diagnosed with COVID-19 and have a pet or other animal:
Avoid close contact with them

Do not snuggle or kiss them, or let them lick you, sit on your lap, or sleep in your bed

Avoid coughing and sneezing on your animals
Have another member of your household care for your animals

if this is not possible, always wash your hands before touching or feeding them

Limit your animal's contact with other people and animals

This may mean keeping them indoors
These recommendations will be updated as more information becomes available.
Animal-to-human infection in other countries
The current spread and growth of the COVID-19 outbreak is mainly associated with transmission from person to person. However, experts agree that the virus likely originated from bats and may have passed through another animal source (currently unknown) in China before being transmitted to humans.
It is recommended that individuals who travel to an affected country or region avoid contact with animals and animal products. This includes wild meat and markets that sell fresh meat, fish, produce and other perishable goods.
If you are considering travel, check the latest travel health notices for the most up-to-date travel advice prior to travelling.
Source: Health Canada "Coronavirus disease (COVID-19): Prevention and risks" – https://www.canada.ca/en/public-health/services/diseases/2019-novel-coronavirus-infection/prevention-risks.html
---
Other Campus Life Articles
Holy Heart High Schools "Carol Gram"
Posted December 18, 2019
Holy Heart Choir delivering Carol-Grams to Eastern Academy instructors!Beautiful voices !

Posted by Eastern Academy on Wednesday, December 18, 2019
---
Congratulations to Eastern Academy's "Class of 2019"
Posted November 29, 2019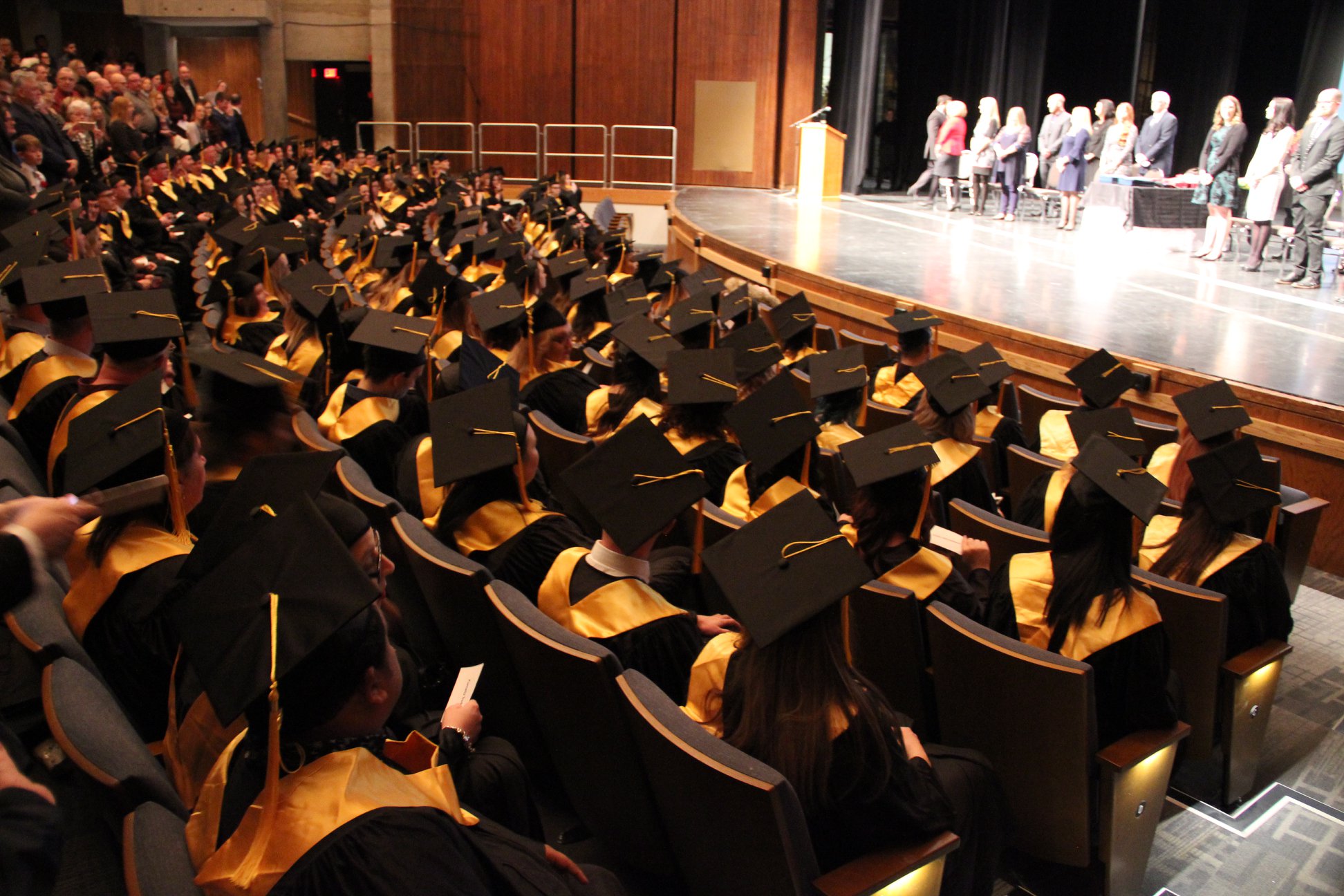 Eastern Academy congratulations our Class of 2019!!