*Important Note: If you are having difficulty submitting this form or do not receive an email confirming your submission, please call us at
1.844.397.0777
or email us at
info@easternacademy.ca
Job Postings
Internal Job Postings
Assistant Campus Director
Posted October 31, 2022
Eastern Academy is now accepting applications for the Campus Assistant Director position.
The Assistant Director reports directly to the Regional Director. S/he will work as a Senior Administrative team member and will be responsible for management of the following key areas:
Work closely with students in relation to academics and attendance
Work closely with students who have learning challenges and putting accommodations in place for them.
Scheduling of classrooms, labs and instructors and communicating these to students/staff.
Hiring of instructors/Administrative staff when needed.
Scheduling Related Training and First Aid courses.
Creating and maintaining an annual school calendar of activities.
Support the Curriculum team on issues relevant to accreditation visits.
Participate in Senior Administrative meetings.
Maintain a working relationship with different outside stakeholders.
Assisting with our annual Convocation ceremony.
Other assigned duties the Regional Director deems appropriate.
Campus Assistant Director requirements:
Ability to organize large amounts of scheduling into a well-organized format that is easy to understand.
Ability to anticipate scheduling and program delivery challenges.
Superior computer skills (especially in the MS Word and Excel programs).
Superior written and oral skills as well as outstanding interpersonal skills.
Commitment to working in a team environment with a highly diversified faculty and administrative staff groups.
Ability to use initiative and independent judgment.
Ability to organize work, set priorities and meet critical deadlines.
Willingness to act as a campus leader and role model.
Teaching experience would be an asset.
Resumes (with position title in the subject line or on your envelope) should be sent to
Anita Morgan
22 Pearl Place
St. John's
NL A1B 3P9
Email: anita.morgan@easternacademy.ca
Application deadline is November 4, 2022.
---
Curriculum Coordinator
Posted May 25, 2022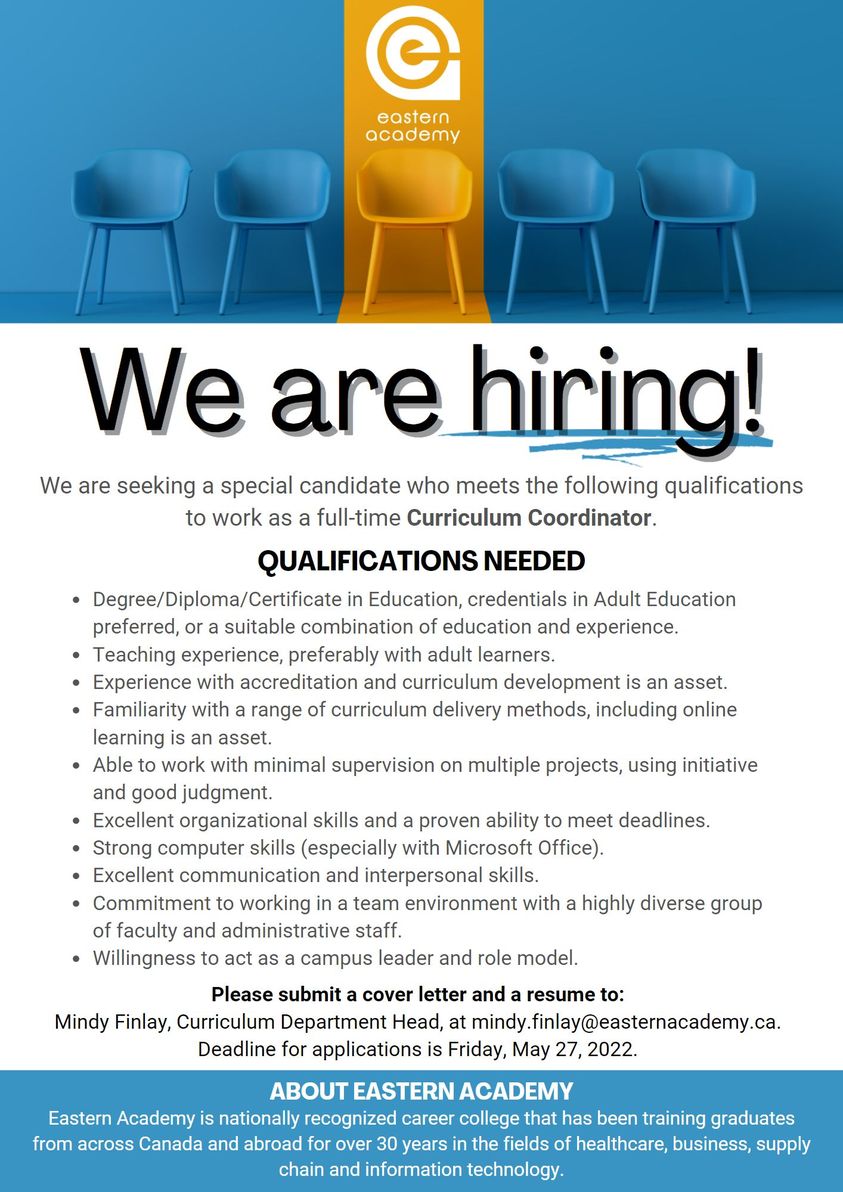 ---
Graduate Job Listings
Full Circle Acupuncture and Wellness – Massage Therapists
Posted November 8, 2022
Full Circle Wellness is a multi-disciplinary clinic located in a prime location in the east end of St John's. We offer Acupuncture, Laser Therapy, Neurotherapy and Massage therapy services to an established but diverse clientele. We are seeking highly motivated, mature, professional, and client centered RMT to join our health care team. Previous experience is an asset, but not necessarily required for the right person. New graduates welcome to apply.
They are now seeking aRegistered Massage Therapist to work part-time in a busy clinic in a prime location in East End St Johns. May lead to full-time hours.
Responsibilities:
Conduct client assessments.
Administer massage treatments based on individual client needs.
Consult with other health care professionals involved in the patient's care when necessary.
Maintain relevant treatment records and medical reports.
Perks
Excellent career opportunity for a new beginning with clientele base.
Competitive/negotiable rates as per industry standards.
Welcoming environment.
Own room, completely furnished. Laundry facilities on site.
We wish to thank all applicants in advance for their interest; however, only those who will be considered for an interview will be contacted. Must be a member in good standing in NLMTA.
Contact to apply:
Phone: 709-753-1013
E-Mail: fullcircleacup@gmail.com
Attention: Valerie
Website: https://www.fullcirclehealth.ca/